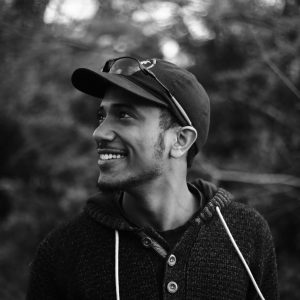 Author – Director | Zimbabwe
Previous work :
2021 – Chimbo cheBere – The Hyenas Song (Feature Film – In development ex Akashinga)
2021 – House on borders (Short Film)

2019 – Mum I Need Oil For My Car (Short Film)
2019 – Taming Kara (Short Film)
Naishe Nyamubaya is a screenwriter, director, and editor, passionate about telling African stories. Half Zimbabwean and half Egyptian by birth, Naishe began writing stories from the tender age of seven.
Having always possessed a love and passion for film, he is driven on capturing audiences with stories of wonder and amazement.
Growing up on a remote safari farm in Zimbabwe, he fells in love with storytelling at a very early age. His mother was a writer and a poet, who constantly shared her stories with him. He became deeply fascinated by storytelling and when he was first introduced to film, He was immediately entranced. He began to understand the power of visual storytelling.
Film, like music, could transcend age, race and cut across different cultures and continents to be appreciated, understood and watched by all. My greatest passion is telling and sharing African stories. Expressing the voice of the African filmmaker. This is a voice that has been ignored, silenced or distorted; yet it screams to be heard.
First evolving on set on TEDx International as Camera operator, and then on Battle of The Chefs's Season 2 as Best Boy and Grip On, Naishe starts his studies in Cinema in 2017 in Directing and ends it with a Master of Fine Arts degree (level 2) in Motion Picture media in 2021 in South Africa.
The same year in 2019, he was actively directing two shorts films Mum I Need Oil For My Car and Taming Kara which was selected in some international film festival.
He is currently developing his first feature film Chimbo cheBere (The Hyenas Song) from Zimbabwe, while he is taking care of giraffes, among others wild animals.